Politka
[
politika website link
]
[
in place of war Vlogpost #3
]
Art and the Affairs of the City
19 September - 1 October 2014
The Engine Room
Hope Mill
113 Pollard Street
Manchester M4 7JA Politika is offering the opportunity for people to think about the role of art and the artist in contemporary society. The exhibition, workshops, screenings and meetings include speakers and activities to generate starting points for an answer, another view, in order to to sustain another ideology against consumerism and the disempowerment that it represents. Our programme is centred around 5 symbiotic themes:
- Ancoats
- Activism in the digital age
- Capitalism works for me?
- Sustainability in the city
- Emergency (Emergencia) Politika presents the opportunity for people to transform themselves from passive consumers into active participants- active citizens via public participation in our creative programme. Politika will see a merging of the intersections between art, social justice as artists and the citizens of Greater Manchester assert their right to the city.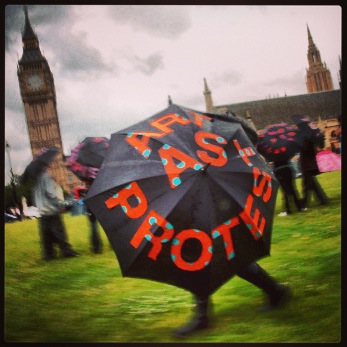 ART AS ACTIVISM Tracey Moberly
Artist, Author & Activist Tracey Moberly is the former co-owner of the Foundry based in Shoreditch, East London. For a decade and a half it ran as a bar, art, performance and gig venue with it's own radio show hosted by Tracey (http://www.text-me-up.com/radio). The Foundry was a strategic underground political enclave and a venue which became home to the G8 protest sector, many activist groups and a host of socio-political voices. The venue was supported and attended by many key political figures from Tony Benn to Ken Livingston. Tracey lectured in Manchester in Interactive Art, Fine Art, Communication Media Design and Politics - she has recently been made an Associate Lecturer at UAL London. Her last book Text-Me-Up! begins and ends in Manchester carving a slice of social history recording the birth and development of the (SMS) text message.
Tracey will talk about a variety of activist art campaigns and projects she has instigated and worked on from eliminating Saatchi"s Club 18-30 Billboard poster campaign profiled in Manchester to the Coca-Cola Nazi Advert Exhibition which began a world tour following an investigation into the deaths of eight Coca-Cola bottle workers on the plant in Colombia. She will detail her recent activities as part of the 100 Acts of Minor Dissent, an exhibition with friend and fellow collaborator Comedian Mark Thomas at Sheffield Millennium Gallery in May 2014. Acts included posing as a female 'Fred with Tyres' outside the Saudi embassy in support of Saudi Women Drivers; and subverting the lettering advertising current films on the front of Curzon cinemas to support a campaign for union recognition.
Workshop: September 27th marks the day in 1983 when Richard Stallman announced the GNU project to develop a free Unix-like operating system and in 1998 the same day is claimed by Google as the birth date of the internet search engine. Tracey is developing a workshop around freedom of expression so bring along a word or sentence that personally highlights this. With Manchester's average rainfall of 70mm covering 20 days of this month your selected canvas will be the umbrella - bring your own umbrella for workshop participation ...
[ link ]