National Portrait Gallery
Late Shift Extra: Everything You Can Imagine Is Real
A part of Late Shift - The National Portrait Gallery, London
Inspired by Picasso Portraits, the Gallery becomes a one night artists' colony featuring music, poetry, performance, art, film and dance. Curated by Martyn Ware for Illustrious.
Friday 20 January 2017 18.00 - 21.00
Inspired by Picasso's circle in Montmartre in the first decade of the 20th century, the Gallery becomes an artists' colony featuring a wild cross-pollination of ideas, music, poetry, performance, art, film and dance. For one evening only, step inside the mind of Picasso where Everything You Can Imagine is Real...
Curated and Produced by Martyn Ware for Illustrious.
Contributing artists:
Zarina Bhimji, Georgina Brett, Peter Coyle, Eclectic Method, Vanessa Fenton, Feral Five, Sarah Hopkins, Aaron Horn, IN-IS, Marcus Lyon, Di Mainstone, Tracey Moberly, Nikky Norton-Shafau, Obsrvtry, Radiophonic Workshop, Ian Reddington, Cherub Sanson, Scanner, John Shuttleworth, The Spinning Yarns, Chris Sullivan, Toby Thompson, Gabriel Ware, Martyn Ware, Chris Watson,Tim Wheater, White Noise, Luke Wright
Download the programme here
Tracey Moberly TriTrace App Self Portrait I - Blonde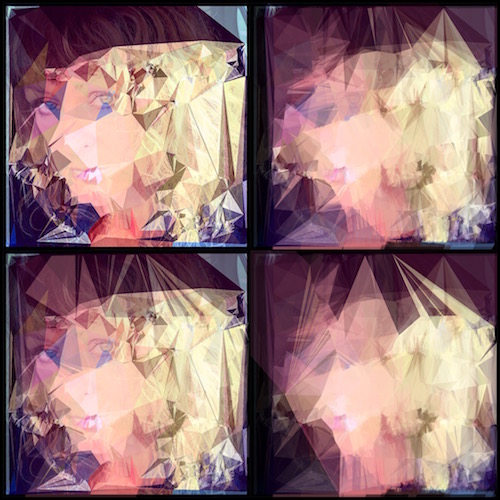 Socio-political and multi-disciplinary artist Tracey Moberly's TriTrace app Self Portrait I - Blonde is created by using her mobile phone as a toolbox and colour mixing pallet.
As a tetrachromat (a rare condition of enhanced colour vision found predominantly in women) she attempts to explore the construct of the two cone cell pigment genes which are present on the X chromosome in women with this condition. Using the app TriTrace and the upside down triangle - symbolising the female - she takes inspiration and challenges through the new technology of Picasso's Analytic Cubism, scrutinising light and form through tetrachromatic prisms.

Tracey's self portrait has been made from the app TriTrace created for her by Jonathan Moberly and available for iPhone and iPad from Apple's App Store.
Spinning Yarns - Weaving Communities: Face-It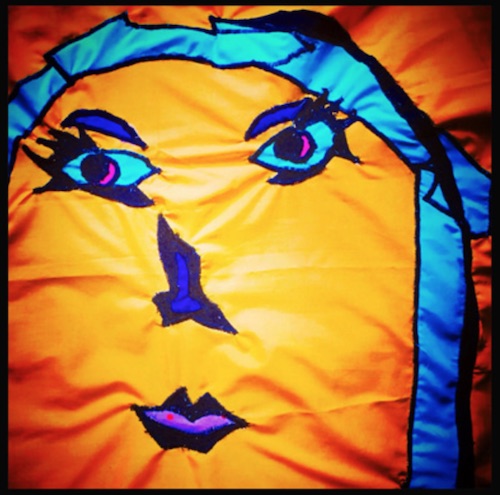 Spinning Yarns - Weaving Communities from Fochriw in Wales display Face-It, their group self-portrait in textiles, based on Picasso's work which looks at colour and form.
Spinning Yarns - Weaving Communities is the banner title for a collective pro-active steering group from Fochriw, a post-industrial village in the South Wales Valleys.
Face-It is part of a larger project which aims to bring the whole community together. This growing series of individual's self portraits from the village are worked in fabric as a response to Picasso Portraits. The project is facilitated by Artist in Residence Tracey Moberly, co-ordinated by Amanda Jones and supported by The Parent Network, Head4Arts and The Health Lottery.