Late Shift Extra: ReAnimate
ReAnimate programme (pdf)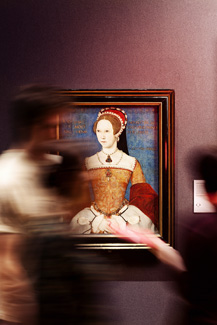 Friday 5 August | 18.00–22.00
A night of sensory stimulation exploring the body, movement and the senses: inspired by the Road to 2012 exhibition, artistic collaborations and interventions of live music, sound art, film, performance, and philosophy take over the Gallery animating spaces, portraits and you. Feel, touch, smell, listen and respond - the Gallery will be a giant creative and imaginative playground for the senses. Featured artists performing live on the night include Ben Westbeech, Andreya Triana, Di Mainstone, Sissel Tolaas and Marvin Ayres. ReAnimate is curated by the National Portrait Gallery in partnership with Martyn Ware, Future of Sound and Karen Pearson, Folded Wing. All events during the night are free.
The night includes digital installations by students from Goldsmiths and also sees the launch of an exclusive Late Shift Tour i-phone app that can be downloaded for free. Featuring specially commissioned music from Martyn Ware, Brian Duffy, Mira Calix, Floating Points and Illum Sphere, each musician has composed new pieces of music in response to portraits at the National Portrait Gallery.
ReAnimate is curated by Martyn Ware and Karen Pearson
Martyn Ware was born in 1956 in Sheffield and in 1978 formed The Human League. He formed production company/label British Electric Foundation in 1980 and Heaven 17 the same year. As a record producer and artist he has featured on recordings totalling over 50 million sales worldwide. He co-founded Illustrious Co. Ltd. with Vince Clarke in 2000 to exploit the creative and commercial possibilities of their unique three-dimensional sound technology around the world. Martyn produces and presents a series of events entitled 'Future Of Sound' and has created sonic architectural works at the British Pavilion at the Venice Architectural Biennale amongst many others.
Karen Pearson has worked in radio for over 15 years. In 2005 she started her own company Folded Wing, making innovative use of radio, branded content and online broadcasting. Folded Wing's regular radio shows include Jamie Cullum on Radio 2, The Selector for the British Council (syndicated to 34 stations across 27 countries) and Pick n Mix Live from the Red Bull Studio. Karen runs 'Broad Casting' nights; curates multi-platform events such as TEDx Soho LDN; and sets up state-of-the-art radio stations such as Red Bull Music Academy Radio.
Artists involved in ReAnimate:
Brian Duffy, award-winning sound artist and creator of the Modified Toy Orchestra, is at the forefront of a movement called circuit bending that involves rescuing children's electronic toys from car boot sales, and converting them into new strange and wonderfully sophisticated musical instruments. Taking them apart, he finds new connections hidden within each toy's circuit that reveal new sounds, exposing the value of redundant technology. The toys are then reassembled with switches and dials. The results of this process are beautiful, funny and extreme and have led Brian to being labelled a genius, madman, and national treasure.
Illum Sphere made his debut on The Incoming EP in 2009 on Manchester's Fat City label. He won the BBC 1xtra Urban Music Award, has received invitations to play at LA institution Low End Theory and this year's Red Bull Music Academy, and remix requests from Martyn Ware, Zed Bias and Warp Records. In addition to the praise given by those that play his Hoya:Hoya night in Manchester and for his Titan EP on Martyn Ware's 3024 imprint, 2010 seemed to be the year that Illum Sphere cemented his place among the underground music elite.
Marvin Ayres is a British modern-classical composer, cellist, violinist and ambient producer. He has composed and recorded a diverse selection of minimalist albums, incorporating spatial soundscapes and psycho-acoustics, latterly 5.1 Surround Sound. He has also produced numerous film and TV soundtracks. Signed in 1999 to the avant-garde label Mille Plateaux he released two minimalist albums, Cellosphere and Neptune, to critical acclaim. His collaborations with film artists have been screened at the Tate Modern, ICA and at international galleries and film festivals. His latest work Harmogram Suite is released in June 2011.
Mira Calix, who until 2003 worked exclusively on electronic music, has incorporated orchestration and live classical instruments into her performances and recorded work. More recently she has concentrated mostly on collaborations and commissions including installation pieces, film soundtracks and works for theatre. In 2009, Calix won the British Composer Award, in the Community or Educational Project category, for My Secret Heart which also won a Royal Philharmonic Society Award.
Floating Points is 23-year-old Sam Shepherd, producer, DJ, and bandleader. His evocative music drifts in a spacey, synth-drenched world, bouncing between boogie-house, glitch-hop, and jazzy dubstep beats. His proficiency in multiple genres can be chalked up to early years spent studying classical composition and jazz piano at Chetham's School of Music in Manchester. In 2009, Shepherd conducted the thirteen-piece Floating Points Ensemble at Camden's Roundhouse.
Di Mainstone is an artist and inventor of Body-Centric Theatre, creating body-centric structures for experimental performance. A playful choreography of fashion, technology and performance, her work is an interactive hybrid, animated by the curiosity of the wearer. Musical prosthetics, kinetic couture, wearable graffiti and sensory-skins are just some of the devices Mainstone has fashioned. Originally trained in fashion at Central Saint Martin's, Mainstone then shifted towards research, expanding her practice through residencies at Eyebeam NYC, XS Labs Montreal and BNMI Banff. Her works have been displayed internationally and she has lectured around the globe.
Tracey Moberly is an artist, author, radio-show producer/host who co-owned Shoreditch's arts and music hangout the Foundry. She lectures in interactive arts, fine art, politics & activism. Moberly exhibits prolifically with much of her work being socio-politically based. She travels extensively with her art and writing, working in remote areas from Eastern Siberia, to Latin America. Shortly before the earthquake she took part in Haiti's Ghetto Biennale with the Grand Rue sculptors of Port-au-Prince and has been invited to participate in the second Biennale this year. Her book Text-Me-Up! offers a journey through popular culture over the last decade. Her next exhibition in conjunction with the book is titled Text-Me-Up-Sex-Drugs & Rock'n'Roll, will be a series of intricate cross-stitch embroideries, which have taken six years to produce.
Sissel Tolaas is a Norwegian artist, smell scientist and professor who deals with the study of odours. She founded a research lab for smell/olfactory and smell-communication topics in Berlin in 2004 connected to and part of the Tolaas studio. The studio is a space where interdisciplinary projects are developed, researched and executed. These projects all involve smell, odour and fragrance in various ways, shapes or forms as part of a conceptual, scientific and creative way of working and approaching the reality we live in. Tolaas has developed a wide range of revolutionary projects with fragrances based on chemical science, maths, linguistics, languages, and the visual arts.
Andreya Triana is an experimental and self-taught singer/songwriter from south-east London. A unique vocalist, she specialises in improvisation and her Freeflo Sessions - a one woman show using a sampler to loop vocals, percussive sounds and beats live - have been enjoyed by audiences far and wide. In 2009 she toured the US with the Bonobo live band, played on the BBC Introducing stage at Glastonbury and signed a three album deal with Ninja Tune Records. 2010 saw the release of her album Lost Where I Belong, produced by Bonobo. Lost Where I Belong combines soul, folk, jazz and Bonobo's cinematic magic.
Ben Westbeech is a DJ, singer and producer. Trained as cellist and vocalist, his influences include house, soul, jazz and hip hop. He is signed to Gilles Peterson's label, Brownswood Recordings. His debut album Welcome to the Best Years of Your Life was released in 2007. He has appeared on Later... with Jools Holland and in 2009 house label Strictly Rhythm approached him and the project developed into his second album, There's More To Life Than This , due out later this year. The record features a range of collaborators including Soul Clap, Motor City Drum Ensemble and Georg Levin.
Julian Hendriques is Programme Convenor, MA Script Writing, and Course Leader, BA Music as Communication and Creativity, at Goldsmiths, University of London. He is also involved with the Department's Skillset Media Academy and the Goldsmiths Screen School which lists among its events each year, the Olive Till Memorial Debate with leading film directors. These have included the late Anthony Minghella, Danny Boyle, Michael Winterbottom, Stephen Frears and Sir Alan Parker. His professional experience as a film maker has informs his research in sound and teaching. Julian has been working with Martyn Ware and the Gallery on a digital participation project with stundets from Goldsmiths around the Road to 2012 project. Work by the students will be showcased during the evening.
Goldsmiths, University of London - ReAnimate
The Gallery has been working with Road to 2012 commissioned-photographer Brain Griffin, sound artist Martyn Ware and Goldsmiths tutor Julian Hendriques on an audio, visual and multi-media project with students at Goldsmiths, University of London. Two of the selected digital projects will be screened at the Gallery on August 5 as part of ReAnimate.